Presentamos el Samsung Galaxy Z Fold3 5G, un smartphone diseñado para ayudarte a hablar, trabajar y jugar a velocidades 5G.1 La pantalla Dynamic AMOLED ofrece unos gráficos impresionantes y se despliega para duplicar su tamaño para proporcionar una experiencia de visualización similar a la de una tablet.2 Con una relación de alto contraste, una frecuencia de actualización adaptativa de 120 Hz y manejo de la luz azul, puedes ver tu trabajo o medios fácilmente en cualquier momento del día. La nueva cámara que se encuentra bajo la pantalla ofrece una increíble vista ininterrumpida con una lente de cámara frontal que apenas es visible bajo la pantalla. Lleva tu trabajo virtual a un nuevo nivel de eficiencia con las codiciadas funciones multitarea y un revolucionario S Pen diseñado para la pantalla plegable.3,5 Toma fotos y graba videos con total libertad gracias al modo Flex, e incluso experimenta videollamadas manos libres para poder hablar sin tener que interrumpir tus tareas. Este smartphone puede acompañarte durante tus largas jornadas, equipado con carga superrápida de 25 W para que nunca tengas que hacer una pausa para cargarlo.4 Ahora con la cobertura de 5G Nationwide y el rendimiento incomparable de 5G Ultra Wideband.
Reseñas
2098 reseñas
de las reseñas recomiendan este producto.
A phone to fall in love with!!!
Sí, recomendaría este producto.
[Esta reseña se recopiló como parte de una promoción.] I've used this phone for a year now and I really love it. The productivity features that this phone has is amazing. The front screen allows you to use to apps at once and the foldable screen allows up to 3 apps at once which I really enjoy. The Dolby atmos feature is pretty awesome for sound quality also bringing brilliant sound from both top and bottom sides of phone. This phone has multiple cameras for use at any side of the phone. I enjoy the front facing camera and also using the rear camera in conjunction with the front facing camera. I only have 2 cons with this device and my battery didn't last a full year and the inner screen protector started to bubble and peel away from the actual screen. Also this phone is a battery hog which you can expect from a phone/phablet. Other than those issues I still think this is an amazing device
Best phone.
Sí, recomendaría este producto.
[Esta reseña se recopiló como parte de una promoción.] Bought my z fold 3 back in October 2021. Great phone. Main screen gave out back in April. Ubreakifix fixed it for free. I now own the galaxy z fold 4
Dispositivos similares
Viendo ahora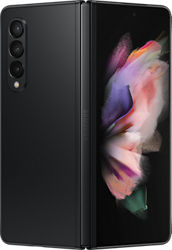 Samsung Galaxy Z Fold3 5G
Desde
$49.99/mes
por 36 meses, 0% APR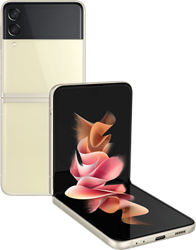 Samsung Galaxy Z Flip3 5G
Desde
$27.77/mes
por 36 meses, 0% APR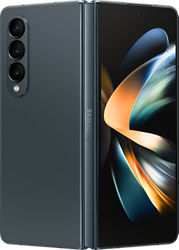 Samsung Galaxy Z Fold4
Desde
$49.99/mes
por 36 meses, 0% APR
5G Ultra Wideband disponible solo en ciertos lugares de ciudades selectas. 5G Nationwide disponible en más de 2700 ciudades.
Measured diagonally, the screen size is 7.6" in a full rectangle and 7.4" accounting for the rounded corners. El área de visualización real es más pequeña debido a las esquinas redondeadas y al orificio de la cámara.
La funcionalidad Arrastrar y soltar funciona con ciertas aplicaciones.
Superfast (25 W) charger sold separately. Usa solo los cargadores y cables aprobados por Samsung; no uses ningún cargador o cable desgastado o dañado; un cargador o cable incompatible puede causar lesiones o daños graves a tu dispositivo.
Compatible solo con el S Pen Fold Edition y el S Pen Pro, que se venden por separado. Solo funciona con la pantalla principal.
Has an official IPX8 rating. Resistente al agua hasta 5 pies de agua dulce durante un máximo de 30 minutos. Enjuagar residuo/secar después de mojar.
Limited time only. Benefit offers are exclusive to Galaxy Z and Galaxy Fold owners and may require new account setup and/or credit card and be subject to auto renewal after the benefit period ends. Ve los detalles y sigue las instrucciones para canjear cada beneficio. Las cantidades son limitadas y pueden aplicarse restricciones.