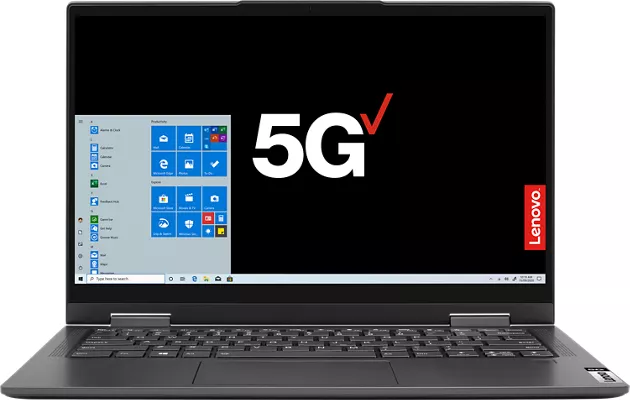 Monthly payments shown are for customers who qualify to pay $0 Down, $38.88/mo for 36 months; 0% APR. Retail price: $1399.99. One-time activation fee of $35.
Introducing the Lenovo Flex 5G, the World's first PC with lightning-fast 5G connectivity.1 Designed exclusively for Verizon, this slim, eye-catching 2-in-1 comes packed with the unmatched power, speed and efficiency of a 2.84GHz Qualcomm® Snapdragon™ 8cx 5G Compute Platform. Experience all-day power2 and convenience on an ultra-portable PC that revolutionizes how you work and play. The Lenovo Flex 5G brings cinematic entertainment on the go. Now with the coverage of 5G Nationwide and the unprecedented performance of 5G Ultra Wideband.1

This device supports 5G UW high-band (mmWave) only, 5G Nationwide and 4G LTE.
Reseñas
66 reviews
of reviewers recommend this product.
Pretty, but soon to be obsolete.
Chromebooks are being phased out and will only be serviced for a few more years. Would've been nice to know.
Good for on the go ONLY!
I purchased this computer thinking it could handle a little bit more for every day use. Turns out it's best use is for airports or when not working in office. Isn't really the type of computer to use if you require to use multiple applications at the same time. It can handle the basics, if not it will freeze up on you. Example - if you have slack, Gmail and Jira in a chrome browser open.. might as well shut it down before the processor stops working.
1. 5G Ultra Wideband available in select areas. 5G Nationwide available in 2,700+ cities.
2. Based on average battery life under typical usage conditions. Average expected performance based on typical use. Actual battery life depends on factors such as network, features selected, frequency of calls, and voice, data, and other application usage patterns. Results may vary.
3. 1-year Microsoft 365 Personal subscription included. Must activate within 6 months of Windows activation. Credit card required. Unless canceled, subscription fees apply after the first year.