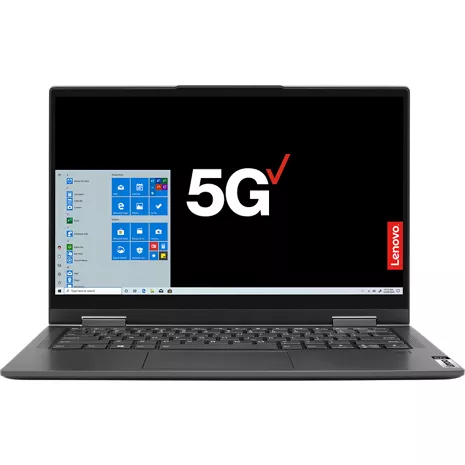 Presentamos la Lenovo Flex 5G, la primera PC con conectividad 5G ultrarrápida del mundo.1 Diseñada exclusivamente para Verizon, esta delgada y llamativa PC 2 en 1 viene equipada con la potencia inigualable, velocidad y eficiencia de la plataforma Qualcomm® Snapdragon™ 8cx 5G de 2.84 GHz. Disfruta de la carga que dura todo el día2 y de la conveniencia de una PC ultraportátil que revoluciona la manera en que trabajas y juegas. La Lenovo Flex 5G ofrece entretenimiento cinematográfico estés donde estés. Ahora con la cobertura de 5G Nationwide y el rendimiento incomparable de 5G Ultra Wideband.1

Este dispositivo solo admite 5G UW de banda alta (mmWave), 5G Nationwide y 4G LTE.
Reseñas
57% de las reseñas recomiendan este producto.
Worst computer I've ever had sssss
Disgruntled customer . 1 mes hace
I've only had one other laptop, but I've had several desktops. This is the first time I've had a Lenovo, and I got this one because I didn't want a chromebook, and this was the only option through Verizon at the time. The keys are huge, like made for a big man, and I'm a small woman. I type fast but these keys are sticky, even though it should be a clean keyboard, so my typing speed sucks. It loses it's charge fast, even when in sleep mode. I can't believe I agreed to pay so much for something I dislike so much. Making payments on it means I have to pay for a line, and I can't even get 5G where I am, in the middle of DFW! What a waste.
LenovoProductExpert - 2 días hace
Hello, we are sorry to hear that your Flex 5G has not met your expectations. In advance, this is a lengthy response, as we want to completely address your pronouncement. The keyboards for Lenovo devices are design for convenient and productive typing with the key placement being thoughtfully designed. Regarding your battery life issues, to extend your batter life, first, set your screen brightness at less than 100-percent - try 80-percent to start with. Then, be sure Battery Charge Threshold is turned off. This power management setting should only be used when the laptop is plugged in all the time. It will prolong overall battery life by only charging the battery to 60-percent of capacity. You can turn off Battery Charge Threshold within the Lenovo Vantage APP installed on this computer. In Vantage select Battery Settings and turn off Battery Charge Threshold, if turned on. Also, here is a link to a webpage that details various options for disabling background applications and processes that may be using battery: https://allthings.how/how-to-turn-off-background-apps-in-windows-11/ Upon making these changes, if the issue persists, we recommend reaching out to Lenovo Tech Support at this phone number for continued assistance: 877-453-6686. Last, if you are not getting the cellular performance you desire, we recommend reaching out to your carrier to discover a solution.
Excellent mobile option sssss
Sí, recomendaría este producto.
I've had a Flex 5G for almost 2 years. Initially I was a bit let down with some of the application compatibility that others have mentioned. But it was a great choice for always connected access (as long as there is cellular). I purchased it because I started an online graduate program and would need access while camping, at the baseball field, or wherever I happened to be. It's not a high-performance computer, but it will meet 80%(+) of most requirements outside of gaming and high-end graphics design work. If you have one of these, upgrade to Windows 11!! Almost all of the compatibility issues go away under Windows 11. The factory installed Windows 10 runs "emulated" and there are some compatibility issues. The Windows 11 upgrade will install a native ARM64 OS (the same version that Surface Pro's run) that works so much better. You won't be disappointed.
LenovoProductExpert - 15 días hace
Hello, MillerS, thank you for choosing Lenovo! We appreciate you sharing your experience and are glad to hear that the features and performance of your Flex 5G meets your needs well.
1. 5G Ultra Wideband disponible en ciertas áreas. 5G Nationwide disponible en más de 2,700 ciudades.
2. De acuerdo a la duración promedio de la batería en condiciones de uso normal. Rendimiento promedio esperado con uso típico. La duración real de la batería depende de factores tales como la red, las funciones seleccionadas, la frecuencia de las llamadas, el uso de datos y otros patrones de uso de aplicaciones. Los resultados pueden variar.
3. Incluye suscripción a Microsoft 365 Personal por 1 año. Debe activarse dentro de los 6 meses de la activación de Windows. Se requiere una tarjeta de crédito. A menos que la canceles, se aplican cargos por la suscripción después del primer año.