Debido a la inactividad, tu sesión finalizará en aproximadamente 2 minutos. Prolonga tu sesión haciendo clic en "OK" a continuación.
Tu sesión ha terminado debido a inactividad. Vuelve a ingresar para continuar.
Call Transferring on One TalkSM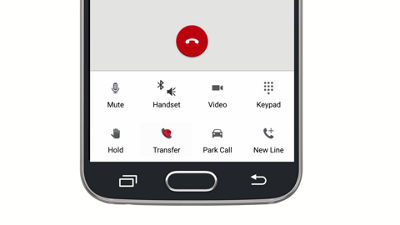 (Duración de video - 1:02)
Este video te muestra cómo configurar el identificador de llamadas al exterior para tu cuenta de One Talk.
one-talk-call-transferring-video:

Transcripción del video
Call Transferring on One TalkSM (1:02)
Este video te muestra cómo transferir una llamada a otro dispositivo de tu cuenta de One Talk.
There are two ways to transfer calls.

While on a call, tap the Transfer button and dial the number or select the appropriate contact to whom you want to transfer the call. Calls can be transferred to One Talk and non-One Talk numbers.

Tap Consultative Transfer to put the first call on hold while you connect with the new party. This allows you to prepare the recipient for the call you are transferring.

When you're ready, drag the on-hold call bubble onto the receiving party to complete the transfer.

The second method, Direct Transfer, connects the call on hold with the new recipient automatically.

You will receive a notification that the transfer has been completed.

If you need additional assistance, please refer to the One Talk Resources Support page.