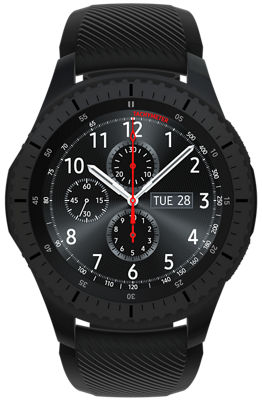 This device is no longer available for purchase.
The Samsung Gear S3 frontier smartwatch is engineered to be rugged and versatile, for the smart adventurer. It's rugged look and durable silicon band complements its tough construction, built to hold up against harsh weather and everyday bumps. With 4G LTE connectivity and NumberShare**, you can stay in touch, get updates, and receive notifications, even when you leave your phone behind.
Reviews
start rating review 3.7 out of 5 stars
3.7/5
50 Reviews
66%
of reviewers recommend this product.
Most Impressive Smartwatch Period.
M3GRSO - 1 year ago
Yes, I'd recommend this product.
This is hands down the most impressive smartwatch I've ever used, most impressive smartwatch ever made, and it'll remain that way until Samsung decides to improve it further – something I'm not even sure they can do. I used to be vehemently against smartwatches because to me, they held little purpose. Why purchase a smartwatch when all it really does I notify you? My smartphone already does this. Then the concept of connected smartwatches appeared, which was definitely more appealing to me. However, it wasn't until the Gear S3 that I decided it was worth rolling the dice. Getting this device connected wasn't a walk in the park, there were several growing pains. First, the cellular feature of the watch wasn't making or accepting calls. Then I noticed calls weren't being forwarded to my device (Verizon has a feature called "NumberShare" that allows you connect connected devices like a cellular smartwatch to a 'Host' device, your main smartphone. As long as your smartphone is powered on and connected to WiFi or 4G LTE, all your calls, text messages and emails will be mirrored to you watch.) NumberShare also mimics your main smartphones number when replying to text messages with the Gear S3, which is awesome when it works (more on that later) Once everything was up and running, it was pretty impressive. Sending text messages using the Gear S3 actually wasn't bad. At Kings Dominion, I used S-Voice to dictate my messages occasionally, and it worked despite the amount of noise around me. I also typed my messages at times which also wasn't bad using the predicative keyboard. Phone calls were fine, but this is where a Bluetooth headset would have been better. There were times the park was simply too loud for the speaker in the Gear S3. Plus, it's a little annoying having to hold your wrist up to your mouth to talk and listen to a conversation. Longevity is another aspect where the Gear S3 impressed me. I powered it on at 6am, and I wanted to see how far it would take me. I answered phone calls (yes, Star Trek style) sent messages to my friends at the park, and made dozens of purchases and it still wasn't dead (albeit at 7%) by 2am the next morning when I finally arrived home from the park. No need to talk about comfort, I had it on all day at the park, even on water rides. Perfectly comfortable, didn't itch or bother me in any way, though remember the Gear S3 Frontier has a black polyurethane (plastic) strap. If you sweat easily around the wrist when wearing a watch, consider purchasing the Frontier. The Gear S3 Classic comes with a leather strap which doesn't age well if you constantly sweat. Keep in mind you can use purchase any additional 3rd party 22mm strap you desire. Samsung Pay is The killer feature on the Gear S3. I didn't want to bring my phone or my wallet into the park, I planned to use watch for everything. Because Samsung Pay uses MST (Magnetic Secure Transmission) terminals that accepts credit cards also accept Samsung Pay. It's literally magic. Occasionally, because the terminal they were using had the card reader as part of the monitor, I had to take my watch off and have them hold it to the card reader, still way more fuctional than other competing smartwatches though. The associates working the concession stands at Kings Dominion were seriously shocked when it worked. Few things to keep in mind, according to Samsung's website, you'll be limited to 5 transactions using the watch to make purchases when it isn't connected to your main device. I didn't experience this limitation, perhaps because my device is cellular or perhaps because my bank doesn't impose this limitation. Be mindful though. Next, my main device is the Nexus 6P, Samsung's website states that text message notifications on non-Samsung Android devices will be limited. NumberShare alleviates this, but you need to ensure when you plan to use the Gear S3 as a standalone device that it is "Connected Remotely" to your smartphone. You can check by swiping down on the screen of the Gear S3. You'll either see "Standalone" or you'll see "Connected Remotely". If the device isn't connected remotely, you won't get any messages or other notifications, just phone calls, unless they send you a text message to the number assigned to your Gear S3, which I for one had no intention of memorizing. While most of this review was a pragmatic take on how the Gear S3 functions as a regular smartwatch, I did have the opportunity to go cycling with it. This is another area where the watch impressed me. I moved about 100 songs on the watch via Bluetooth from my smartphone. A bit slow, but the bit rate on my music is higher than is should be. With Location on, S-Health tracking my cycling activity, Bluetooth headphones on listening to music. I finished a 5 mile ride which took about 30 min and the watch still registered 90% battery life. This wasn't the longest ride I could've done, but I see no reason why the watch could last several hours cycling or performing any other sport. Consider this, it's pretty powerful having a smartwatch that can answer incoming calls, respond to messages, read emails without having your smartphone with you. That same smartwatch also has internal storage for personal music when you're being active, and it also acts as your wallet so you don't have to carry it around -- infinity helpful when pockets are at a premium (cyclists know what I'm talking about) All in all, this is a really impressive device for those who want a smartwatch that can do more than just notify. Before you pull the trigger, I recommend qualifying yourself; do you need cellular connectivity? Is the size of the Gear S3 too imposing? Do you want to pay the fee to connect your Gear S3 to your Verizon account? Every purchase should be subjective, and if you can find value on the Gear S3 as I did, you won't be disappointed.
If you want a smart watch, this is it!!!
I have gone through many smart watches over the years, but this one is my favorite so far. It looks great, feels great, and it very comfortable to wear. Given the fact that is is 4G capable just put the icing on the cake. Numbersync feature is by far not a deal breaker with this bad boy. If you set it up properly, you can get 3 days minimum out of the battery. I would say that this is acceptable to most of us watch gurus. Wireless charging is very nice and the speaker sounds great for a smart watch. Streaming Spotify while I am running is a HUGE deal to me. Leave the old S7 in the car and use nothing but the watch. I just call forward my primary number and that is good enough for me. I give it a 5 out of 5. I also had the previous samsung Galaxy Gear. Great little 3G phone/watch but this newer 4G model has blown it away. Do not put off buying this one. You will be very satisfied and happy with your purchase. Not to mention swapping out 22mm watch bands without any hastle. Have a great day!!!
Very Happy with It
NativeNewEnglander - 1 year ago
Yes, I'd recommend this product.
I've had the Gear S3 for almost two weeks. It's really quite nice. It is many "devices" in one. It replaces my watch, my fitness tracker, and sometimes my phone. The quality is excellent. The user interface is excellent. I have downloaded several watch faces and use different ones at different times. A dressy, formal gold face for dress-up occasions. Or a utilitarian face to see everything at once (steps, temperature, time, date, heart rate, seconds, etc.). There are good paid faces, but countless free ones that are just as good. The watch felt comfortable on the wrist at the very start. Good battery too. Once I did all the playing and initial personalizing, I get 3 or 4 days on one charge. So overall I'm very happy and glad I purchased it. I think you'll be happy with it too.
Great watch
If you are already familiar with Tizen and know it's limitations then it is similar to the Gear S2 but I think it is much nicer. Verizon provides it with a phone number to operate independently. Took me a while to figure out but when you want to use LTE and have your watch ring with your CELL phone number vs only it's assigned number you can go to manage devices on the Verizon page and drag the watch to your phone. This will allow your watch to ring via the Cell Phone number also. Looks like text only works with the number on the watch from what I can tell. I enabled Samsung Pay setup a card and turned on NFC, GPS, LTE, Wifi with auto on/off, and bluetooth of course. I wanted to put it through a good test. I ran for approx 40 minutes on LTE, w/ Spotify running, GPS keeping track and alerting me every 5 minutes on bluetooth headset. Beat the heck out of it today as far as usage overall. I am at 45% from 4:45AM till 3:08PM so far. So I would get a lot more out of this with lighter use of course. I also left my phone home and setup bluetooth in my vehicle which also worked fine for calls. The only thing that really bugs me ....just a Samsung/ Tizen thing is that I can't have a standalone email app for at very least email notifications without my phone. Must be connected to the phone EVEN using the native email app on phone/watch. I thought just maybe it would work via LTE, but no. I setup my gmail account with 2fa using one time password to use native app. Overall a fantastic watch but I know I will probably NEVER have google maps, gmail, etc...so if you are ok with that it is a fantastic device. If they actually had the LG sport on Verizon I would imagine I would love the Google eco system as I do have a Huawei watch now with Android Wear and love it, but not willing to get the new Wear24 Verizon offers with no GPS. So in short it is a great watch. Just wish for more apps. It serves it's purpose and looks great.
Best smartwatch I have ever owned
blackplain845 - 7 months ago
Yes, I'd recommend this product.
Simply the best Smartwatch I have owned..The ability to leave my note 8 off and wear my phone on my wrist is killer...all functions work and get my texts ,email and notifications..work flawless...worth the device monthly device charge..recommended.
Love it & not uncomfortable on small wrists!
JessicaC0 - 1 year ago
Yes, I'd recommend this product.
I originally had the gear s2 and was hesitant about upgrading to the s3 since I am a woman with relatively small wrists (6.25 in circumference). I eventually decided to give the s3 a try, and I couldn't be happier! I love the larger screen size and especially the extended battery life. I can usually go a few days without charging the s3, where I was charging the s2 every night. The s3 is also easy enough to customize to your style with different watch bands and faces if your a woman and consider it "too manly." Overall, the size is perfect for me - large enough for improved functionality over the s2 but still comfortable to wear all day/every day.
*4G LTE standalone connectivity only available on Samsung Gear S3 frontier version, a companion for compatible Android® smartphones, sold separately. Stand-alone connectivity requires initial pairing of Gear S3 frontier with compatible phone and separate qualifying wireless plan. Stand-alone functionality limited if paired phone is not powered on or connected to a wireless network. Network coverage not available everywhere. Consult carrier for details.
†This device passed military specification (MIL-STD-810G) testing against a subset of 10 specific conditions, including drops from 4.9 feet, extreme temperatures, dust, shock/vibration and low pressure/high altitude. Water- and dust-resistance based on IP68 rating (water-resistant in up to 5 feet of water for up to 30 minutes). Rinse residue/dry after wet. See user manual for more details.
‡ Usage based on average user profile. Actual battery life depends on factors such as network, features selected, frequency of calls, and voice, data and other application-usage patterns. Results may vary.
§This device and related software are not intended for use in the diagnosis of disease or other conditions; or in the cure, mitigation, treatment or prevention of disease.
**NumberShare allows you to make and receive calls using one shared number across your NumberShare* capable Verizon LTE devices including the Samsung Gear S3 frontier. * Terms apply: www.verizonwireless.com/support/numbershare-legal/