16 accesorios tecnológicos de viaje esenciales
Equípate y mantente conectado con tecnología esencial de viaje de Verizon. Whether you're looking to liven up your next road trip or plan ahead for a vacation abroad, these affordable gadgets and devices are sure to help.
Essential travel tech.
Smartwatches
A smartwatch streamlines your traveling must-do's with access to mobile boarding passes, music and step trackers, to name just a few. Smartwatches are available by all the brands you love, including Apple, Samsung and Verizon.
The Apple Watch Series 6 lets you stay connected with notifications about texts, emails and apps right from your wrist but also has high-tech health features that help you stay in the loop with stats about your daily well-being. 
The Samsung Galaxy Watch3 is another smartwatch option that not only has all the tech necessities you're craving but also looks stylish and chic. With tons of watch faces to choose from, popular finishes and interchangeable bands, you can design your smartwatch to fit your unique style.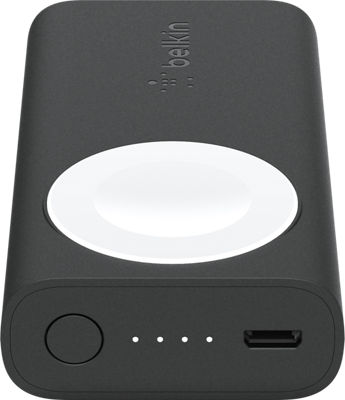 Travel charging accessories.
External batteries
Multipurpose power packs are travel workhorses, supplying multiple ports and on-the-go charging while remaining relatively light and affordable. Also consider a battery phone case: it can more than double your device's battery life without weighing it down.
The Belkin BOOST UP CHARGE Power Bank 10K with Lightning Connector will quickly become your new travel pal, with its slim design and ability to charge your Apple iPhone or iPad. It has 2 USB–A ports and no extra wires are needed, so it fits comfortably in a backpack or purse. And if keeping your Apple Watch charged is equally important, check out the Belkin BOOST UP CHARGE Power Bank 2K for Apple Watch. It has a compact and lightweight design with LED indicators to show how much battery remains. Y para aquellos que necesitan usar la alarma de su smartwatch, el modo de Mesa de noche puede usarse mientras carga.
Wall charger and adapter

A wall charger with up to 4 USB connections makes it simple to power multiple devices at the same time in the same outlet—a bonus when plug-ins are limited. Also, if you're traveling abroad, pack an outlet adapter to translate volts to the power your device requires. 
Charging cables
A handful of shorter charging cords-even just a few inches in length-boost convenience while reducing tangles. Stash them in a small pouch or other container so they stay organized and ready.
Cargador para auto

If you're driving or renting a vehicle, remember to bring a car charger. There's no worse time to run out of power than when you're on a back road in another country and relying on GPS to get you to your destination.
Audio equipment for driving and traveling.
Audífonos
Stay relaxed during your flight with noise-canceling headphones that help minimize disruptions. It's also smart to pack an inexpensive pair of wireless headphones, in addition to whatever you use day-to-day, so you can worry less if they go missing or break while traveling. 
Altavoces Bluetooth

Always have your favorite music by your side at the beach or pool with a pocket-size, waterproof Bluetooth speaker. It makes a great replacement for a bulky, battery-powered boombox and can be easily stored in your bag. Many are even waterproof, so you can listen without worrying about splashes. 
The JBL Flip 5 Eco Edition Bluetooth Speaker even lets you use the PartyBoost feature to pair 2 compatible speakers for stereo sound or multiple speakers to fill your home, backyard or wherever the party is with your playlist.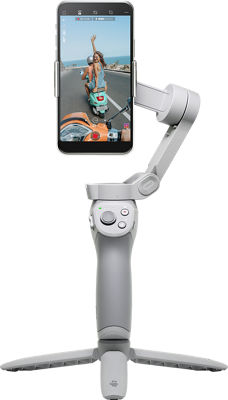 Travel photo necessities.
Smartphone gimbals
Looking to snap fun group photos without accidentally cutting out some of your friends? Selfies are fun but can be hard to always get a good shot. Consider the DJI OM 4 Smartphone Gimbal Stabilizer to help capture all your selfie-worthy moments, even if you don't have super long arms.
This stabilizer features a magnetic phone clamp and ring holder that makes it easy to attach your phone while filming on the go. 3-axis stabilization holds your phone steady, so no more shaky videos. And ActiveTrack 3.0 makes it easy to follow your subjects, letting you stay focused on the moment, rather than whether or not you're in the frame. Plus it has a foldable design that makes it easy to take with you.
Phone lenses and action cameras

These smaller accessories provide an easy way to improve travel photos without the need for a bulky or expensive camera. Clip-on lenses instantly give your smartphone the ability to take wide-angle shots, fish-eye photos and more. 
Drones
Check regulations before bringing and using drones, as they're banned in spots like national parks. But if allowed, there's no better way to capture a sweeping overhead shot of your surroundings when on vacation than with a drone.  
Travel accessories for connectivity.
Hotspot personal
The Verizon Jetpack MiFi and similar devices turn practically any area into a mobile hotspot. The Verizon Jetpack can connect up to 15 devices using your Verizon data plan, and it also doubles as a device charger. Hotspots are great for getting work done while on-the-go or if your WFH setup moves to a friend or family member's home for a few days.
Trackers
Bluetooth-enabled trackers help you keep tabs on boarding passes, passports, keys or anything else you're worried about losing while you're abroad. Some companies also make subscription-based luggage trackers that help locate misplaced bags. Nothing ruins a trip like lost items, so this is a smart investment if you're a frequent flyer.
Plan ahead for a great vacation.
Whether you're headed out for a long weekend or trekking through a 2-week European escape, investing in and organizing the right tech boosts both safety and enjoyment. Start prepping now by stocking up on must-have travel tech accessories. And to eliminate pre-trip worries, protect your smartphone with a Verizon protection plan.
Este contenido se comparte solo con fines informativos. Toda la información que se incluye en esta página está sujeta a cambio sin aviso. Verizon no es responsable de ningún daño, ya sea directo o indirecto, que surja del uso o la fiabilidad del contenido antes mencionado, o que esté relacionado con este.