5 features to look for in audio equipment
Whether you're a casual listener or an audiophile, the right audio equipment can make a world of difference. With all the new speakers and headphones on the market, it can be hard to figure out which capabilities and features are worth the extra cost. Here are 5 important things to look for when picking out audio equipment:
1. Long-lasting battery.
The last thing you'll want to do is put the party on pause because the speaker ran out of charge. If exceptional battery life is high up on the priority list, it's worth checking out the JBL Boombox 2 Portable Bluetooth Speaker. With up to 24 hours of battery life, you can keep the party going and the built-in power bank lets you charge your devices to keep the music going. Crank up the volume with PartyBoost to link multiple JBL PartyBoost-compatible speakers together for an immersive party experience.
2. Voice activation.

Great music can make for a great party. And that's why it pays to have a device that can take voice commands even when you're out on the dance floor. The Google Nest Audio allows users to change songs and adjust settings without needing to walk over or put down their drink. Just say, "Hey Google, play some music" to hear crisp vocals and powerful bass. Play your favorite podcasts and audiobooks from the streaming services you use most. Nest Audio adapts to your environment and whatever you're listening to, so music sounds better. And news, podcasts, and audiobooks are just as clear.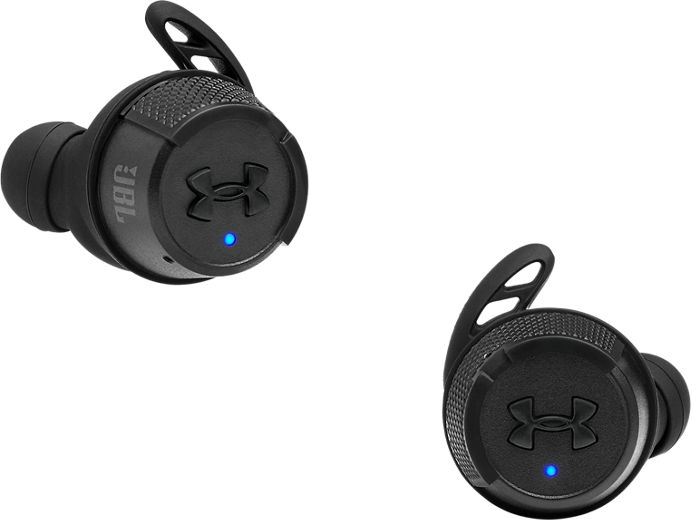 3. Integration.
Linking audio equipment with other systems can be a quick and efficient way to simplify a routine. Take your music with you with the JBL Link Portable Smart Speaker. This compact smart speaker is designed to go where you want, when you want, so you can keep the tunes flowing. With a long-lasting battery, you don't have to worry about losing power during your favorite podcast. And, with a waterproof rating, bring it with you during beach and pool outings. 
4. Ease of use.
It shouldn't take a PhD in engineering to listen to a song. With the JBL Under Armour True Wireless Flash In-Ear Headphones, you get a real wireless experience. The aluminum charging case has a sleek, sliding design and a fabric cord to ensure your headphones charge safely. The easy-to-connect Bluetooth® earbuds cord-free design lets you tune into your favorite playlists without wires getting in the way. Sport Flex Fit winged ear tips are easy to use and fit securely on your ears.
5. Durability.
Want to turn your Moto Z Droid or Moto Z Droid Force into a high-quality sound system? Love listening to music by the water? No problem. TrustedReviews described the JBL SoundBoost2 Moto Mod as a super useful product with genuinely impressive sound quality. It's also tough enough to defend against splash damage. Throw a pool party without worrying about a few splashes damaging the speaker.1
No matter your style or preference, Verizon has audio accessories to fit your needs. 

1. Speaker can be splashed, but not submerged.

The above content is provided for information purposes only. All information included herein is subject to change without notice. Verizon is not responsible for any direct or indirect damages, arising from or related to use of or reliance on the above content.