Alexa, Google Home Hub y más: accesorios para el hogar inteligente
Smart home accessories can help you monitor your property and make your home more comfortable. When planning out your smart home setup, it's important to know which devices and what technology you need to get the job done. Smartphone and tablet apps, as well as virtual assistants like Alexa or Google, allow users to turn lights on or off, see if the garage door was left open, communicate with visitors at the front door, adjust the thermostat - and more. And, smart TV streaming accessories allow you to stream your favorite series and movies right on your television. Here are some high-tech smart home accessories and innovations that can help transform your house or apartment into a smarter, more efficient home in no time.
Easily sync up a wide range of security products right to your phone so you'll always know what's going on at home. 
Indoor and outdoor security cameras, baby monitors and contact sensors are just a few of the products that help keep an eye on your home whether you're on-the-go or staying in. 
The Canary Flex is easy to install - wirelessly or plugged in. The indoor/outdoor HD security camera is equipped with night vision and motion detection that captures sudden movements and unexpected activity. Users can watch the live feed from the Canary smartphone app or review footage later. And if you're worried about intruders, the Flex will send an alert to your phone when it detects unusual activity.
The Ring Video Doorbell is another security product that lets you answer the door even if you're away from home. The Ring streams and records HD video from the front door to your smartphone. Users can interact with guests remotely or buzz a guest in from the couch. Installation is seamless. Use existing doorbell wires or the built-in battery, then simply connect it to the secure wireless network.
Save on your energy bill while keeping your home at the perfect temperature. Smart thermostats connect to your phone so you can control the temps at home even when you're not there.
The Nest Thermostat E learns from energy usage behaviors to help conserve energy and reduce monthly bills. Users can control their thermostat through a smartphone app from afar, but it'll go into energy-saving temperature mode if it senses people are away from home. And a monthly email report allows consumers to better understand their energy usage. The furnace is acting up? Nest will notify you. Plus it has a subtle, frosted display that blends into your environment.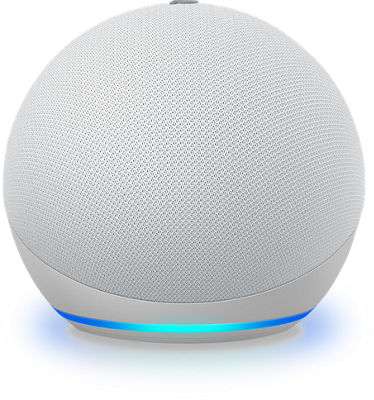 Misplace your keys? Long-range, waterproof smart trackers make it possible to keep track of your most important items easily.
The Verizon Smart Locator can be secured to a bike, backpack, handbag and any other valuable possession. It works with cellular-connected location tracking for both indoor and outdoor use. The Verizon Smart Locator uses a combination of GPS, Wi-Fi-based positioning (WPS) and network coverage for pinpoint accuracy. It performs reliably regardless of how close it is to your smartphone.
Now you can automate your home with smart speakers and other media devices with built-in virtual assistants to easier control how you watch, listen and plan your days.
The Google Nest Home Hub helps you get things done hands-free and get notifications so you never miss an appointment. You can even control compatible lights, cameras, TVs and more from a single dashboard with just your voice. Looking to set up your Google Nest Home Hub or Google Nest mini?
Amazon's Alexa is another popular smart home media and virtual assistant accessory that allows you to do everything from play music, ask questions, control compatible lights, cameras, TVs and more. The Amazon Echo Dot (4th Gen) is a smart speaker that comes with Alexa, and its small, sleek design allows you to place it anywhere in your home, or even have multiple speakers synced across the house, all controlled by your voice and a central smartphone app. Learn how to use Verizon Skill with Amazon Alexa and how to set up your Echo Dot here. 
Smart TV streaming accessories and how to set them up.
When it comes to streaming, it's now easier than ever with the latest in smart TV streaming technology. Amazon Fire TV Stick, for example, connects directly to your TV and uses your home internet connection to allow you to stream all your favorite TV and movie apps right on your television, complete with an Alexa voice remote for easy navigation and a voice-controlled experience. Apple TV allows users to access their Apple TV+, Apple Arcade, and Apple Fitness subscriptions right from their television, as well as stream in 4K. Verizon Stream TV also connects right to your television, and integrates with Chromecast and the Google Assistant to offer easy navigation and voice control technology, and more. No matter what you want to watch, these devices can connect to your TV and allow you to stream high-quality video across your favorite apps and streaming services.
For more innovative ideas to customize your smart home, check out Verizon's Smart Home page.
Páginas relacionadas 
Verizon +play
Agrega, administra y cancela todas tus suscripciones en un solo lugar. Y obtén descuentos.
Ofertas de Verizon
Ve las ofertas más recientes de Verizon en smartphones, accesorios y más.
Personaliza tu plan Unlimited de Verizon
Paga solo por lo que necesitas. Ve los últimos planes telefónicos y de datos Unlimited.
Verificado por el equipo editorial de Verizon. Este contenido es provisto solo con fines informativos. Toda la información que se incluye en esta página está sujeta a cambio sin aviso. Verizon no es responsable de ningún daño, ya sea directo o indirecto, que surja del uso o la fiabilidad del contenido antes mencionado, o que esté relacionado con este.