How to clean your cell phone and keep it germ-free
Concerned about how to clean your phone and other tech to keep them as germ-free as possible? Estas son algunas sugerencias que te guían para elegir limpiadores aptos para tecnología, paños para pantalla y más para cuidar tus dispositivos.
Many germs and viruses such as coronavirus can live on phones and tech. 
A recent study by research firm dscout found that average users touch their phones 2,617 times a day, and that number increases to 5,427 for heavy users. Between touching your phone, your face and surfaces including countertops, keyboards and more, spreading germs is likely.
Some germs and viruses, including coronavirus, can linger on surfaces anywhere from a few hours or up to several days or more, depending on the surface material and the environmental conditions. That's why learning how to clean your phone is just as important as learning the right way to wash your hands.
The best way to clean your phone.
Unlike washing your hands, you can't use soap and water to clean your tech. Most phone manufacturers such as Apple and Samsung have changed those recommendations to include the use of alcohol-based cleaning or disinfecting wipes. Follow these 4 steps for the best way to clean your phone. (You can use this process as a tablet cleaner, too.)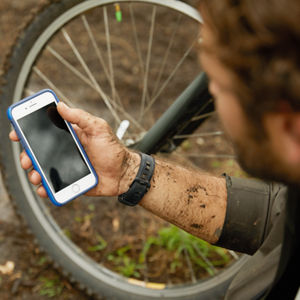 Turn off and unplug your phone.

Thoroughly wash your hands, using soap and water; scrub for at least 20 seconds.

Gently wipe

down the

outside of the phone, including the screen, with an anti-bacterial wipe. Or, spray a soft cloth with an alcohol-based disinfectant cleaner containing 70% isopropyl and use that to clean your phone. (The ratio of 70% alcohol is important: it's enough of a concentration to kill any germs on the phone's surface.)

Avoid getting any moisture in the ports. 

Before cleaning any of your devices be sure to check the manufacturer's instructions for keeping your tech clean. 
The best way to clean your phone cases and accessories.
It isn't just your phone's surfaces that get grimy; your phone case and any accessories such as headphones pick up germs, too. You can follow the same cleaning instructions for accessories as you did with your phone. Wash your hands, then use a disinfecting wipe or cloth sprayed with an alcohol-based cleaner. If recommended by the manufacturer, clean hard cases with soap and hot water if appropriate, washing at least 20 seconds. While you're at it, wipe down the cords you use, too. (Click for a list of CDC-recommended household disinfectants.)  
In addition, you can also invest in antibacterial accessories that have antimicrobial protection built-in. Things like glass screen protectors with embedded silver ions are designed to kill nearly all bacteria that may accumulate on a screen.  
As a rule of thumb, clean your phone and accessories once a day - but disinfecting items more than that is OK too. Establish your own routine, such as wiping it down when you wash your hands, especially after returning home from time spent outside.
Reminders: tech and phone cleaning do's.
Do unplug and turn off your phone first. 

Do use disinfectant wipes with 70% isopropyl alcohol or a similar disinfecting spray, spritzed onto a clean microfiber cloth. 
Do spray any cleaners onto a soft cloth, not directly onto your phone.
Do wring out the wipe or cloth before using if it's too wet.

Do use soap and water or disinfecting wipes/spray to wash your phone case, based on the material it's made of and manufacturer's instructions.

Do sanitize your tech at least once per day.

Reminders: tech and phone cleaning don'ts.
Don't use 100% alcohol cleaning products; they can damage a phone's protective coatings.
Don't apply liquid or cleaner directly to your phone.
Don't submerge the phone.
Don't use liquid bleach.
Don't let any liquid get into your tech's ports.
Don't use a paper towel to wipe your screen.
Keeping your cell phone as germ-free as possible takes just minutes a day, but there's one more step you can take to guard your tech. Keep your phone, tablet, earbuds and other accessories to yourself; don't let others pick them up for you or use them. With a little mindful practice, good cleaning habits and the help of some high-tech, antimicrobial accessories you can significantly limit the spread of germs from your devices.
For more information about the Verizon response to COVID-19, click here.
También te podría interesar:
Páginas relacionadas 
Verizon +play
Agrega, administra y cancela todas tus suscripciones en un solo lugar. Y obtén descuentos.
Ofertas de Verizon
Ve las ofertas más recientes de Verizon en smartphones, accesorios y más.
Personaliza tu plan Unlimited de Verizon
Paga solo por lo que necesitas. Ve los últimos planes telefónicos y de datos Unlimited.
Verificado por el equipo editorial de Verizon. Este contenido es provisto solo con fines informativos. Toda la información que se incluye en esta página está sujeta a cambio sin aviso. Verizon no es responsable de ningún daño, ya sea directo o indirecto, que surja del uso o la fiabilidad del contenido antes mencionado, o que esté relacionado con este.