Gridiron goodness: NFL on your smartphone
Verizon customers can now enjoy watching live NFL games on the Yahoo! Sports app.
Sports are finally back, and the Yahoo! Sports app delivers the very best in news, scores and video coverage for active leagues. Whether you're a casual viewer or a hardcore fan who wears the same pair of socks every Sunday, Verizon customers can enjoy watching live and local primetime NFL games on their smartphones. Available for Android and iOS devices, the Yahoo! Sports app allows you to check out everything you need to know for the NFL as well as the NBA, MLB, NHL and more.

Something for every fan. 

Accidentally double-booked on game day? You can still get the major headlines and watch live, local Sunday and primetime games with the Yahoo! Sports app. The leading mobile destination for NFL content also provides access to in-game highlights, game previews and much more.
If you closely follow rushing yards, TDs, PATs, INTs and other stats, the Yahoo Sports! app has instant updates so you can crunch all the numbers. You can also get a stream of your favorite teams, players and coaches. Keep up with all the breaking news from around the NFL, and sign up for your favorite team alerts, NFL news alerts, and tune in alerts. Plus, you can get access to original reporting and exclusive content from Yahoo! Sports writers and Fantasy experts.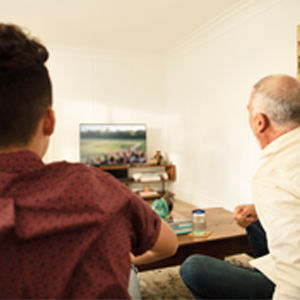 Post-game recap.
The Yahoo! Sports app provides access to NFL games, news, previews, videos and more.
News

Scores

Schedules

In-game highlights

Game previews

Pre-season live videos

Regular season live videos, including Sunday afternoon in-market local games (there's no access to out-of-market games) and Thursday, Sunday and Monday night games.

All  playoff games

Super Bowl 

The Pro Bowl
You can watch live NFL games on the Yahoo! Sports App, as well as on these other Verizon platforms:
Customize your settings.
It's easy to set your favorite teams and leagues to get personalized news about the sports you want. You can set alerts to only get notifications when you want them. And you'll always be up-to-date with stats so that even if you can't watch the game, you'll never miss the action.
Stream sports on your smartphone.
If you're on the go while your team is playing, don't worry about trying to find a tv—you can stream the game on your smartphone device. If you're looking for a smartphone that's going to double as your on-the-go tv, consider the Apple iPhone 11 Pro Max. It has a 6.5-inch Super Retina XDR display and long battery life, making this smartphone perfect for when the game goes into overtime. The Samsung Galaxy Note10+ 5G also has a large Cinematic Infinity Display which is great for seeing all the details. Paired with 5G speeds, you can count on uninterrupted streaming for the most important games. And if you have a pair of wireless Samsung Galaxy Buds+, you can enjoy the game in privacy. 
Don't miss a game with Verizon.
The Yahoo! Sports app is a great way to stay in-the-know with your favorite NFL teams and other leagues as well. And if you're a Verizon Fios customer, don't forget to check out all the different channels and streaming options that are available to take your sports watching experience to another level.
This content is provided for information purposes only. All information included herein is subject to change without notice. Verizon is not responsible for any direct or indirect damages, arising from or related to use or reliance of the above content.