How to score a deal on a nearly new iPhone or Samsung
New phone excitement definitely hits a peak each spring and autumn. That's when manufacturers such as Samsung and Apple release updated models with lots of high-tech advances and plenty of bells and whistles. If you're considering a phone upgrade, there's another option worth a look: an older model — even one that's 2 or 3 years old — may offer some of those same cool features at a lower cost. Here are some choices from the major phone makers. 
Apple iPhone 8 and iPhone 11 deliver speed and size flexibility.

The affordable new iPhone SE caused a stir this April, and now the tech rumor mill is rife with talk about the new iPhone 12. Its release date is expected fall 2020, and it will probably deliver a speedier processor and a couple of sizes. But you can already find a roomy display for hand-held entertainment with the iPhone 11: the 6.1-inch, all-screen LCD display with backlight takes advantage of corners, and the A12 Bionic chip means loading and playing movies and shows won't have pesky processor lag time. If you're a traditionalist or prefer a smaller overall phone size, turn to the iPhone 8. (You might also like the old-school center "Home" button, which has been ditched on newer iterations of the phone.) The currently available iPhone 8 also offers wireless charging and is still supported by software upgrades, all for a wallet-friendly price.
Bottom line: The closer we get to the release of the iPhone 12, the better deals you may find on the recently launched iPhone 11 and the always popular iPhone 8.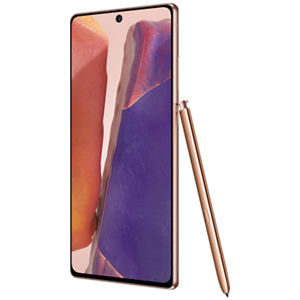 Samsung Galaxy Note9 and Samsung Galaxy Note10 ramp up photo possibilities.
There's lots of buzz around the Samsung Galaxy Z Fold2 and the Galaxy Note20. The former is the next version of Samsung's foldable smartphone and includes plenty of notebook features; the latter promises a giant jump in camera capabilities, among other advances. However, 2 existing options in the Galaxy Note family both offer useful tech that works hard and are priced right. The Samsung Galaxy Note9 supplies robust, pro-level photo and video capabilities, from adjustable shutter speeds, 4K UHD and exposure levels to filters and stabilization (no more out-of-focus photos). Certified pre-owned options are the way to go if you want to score amazing savings on the still relevant Galaxy Note9. 
For an additional Note upgrade that's still budget-friendly consider the Samsung Galaxy Note10. This phone offers the option to take ultra-wide and zoom pictures with the 16 MP camera using the all-day battery. It also includes Superfast Charge and the S Pen Stylus for marking up pictures and images.
Bottom line: While there are plenty of advances packed into the next Samsung phone entries, previous Galaxy Note options still enable you to record the images and videos you want. 
Google Pixel 4 and new Pixel 4a offer flagship features for less.

The newly announced Google Pixel 4a, Pixel 5 and Pixel 4a 5G may be grabbing recent headlines, but last year's models from Google still offer plenty of punch. The Pixel 4 and Pixel 4 XL each come with a full-screen HD display, an 8-MP front camera, a main 12.2-MP rear camera that supports clearer nighttime photos and internal storage of up to 128 GB. But if you're willing to drop the high-end aluminum frame, the 15-MP rear telephoto lens and the wireless charging features of those models, consider the new Pixel 4a. Its unibody frame is a polycarbonate plastic with a front cover of durable Corning Gorilla Glass. Plus, it adds a 3.5mm audio headphone jack and starts at and impressively low price.
Bottom line: While the 5G options coming from Google are tempting, and there certainly is a huge upside to the capabilities 5G speeds offer. But the budge-friendly Pixel 4a might be all you need right now at an attractive price.
LG Stylo 5 blends budget with a built-in stylus.

With the anticipated release of the new LG Stylo 6, now may be a great time to save on last year's LG Stylo 5. Each offers an immersive edge-to-edge display, a built-in stylus and strong battery life. Both models come with 3 GB of internal memory to help run larger apps and the voice-activated Google Assistant to boost hands-free productivity. The newer LG Stylo 6 comes with double the on-board storage of the LG Stylo 5 (64 GB vs 32 GB), but each supports up to 2 TB of expandable storage. 
Bottom line: If you don't need the advanced rear-triple camera system on the newer Stylo 6, the single rear 13 MP camera on the Stylo 5 still offers auto-focus to minimize blur and capture your special moments in sharp focus.
When to get your phone deal from iPhone, Samsung and more. 

Most of the time, manufacturers will confirm a new release about a month before it happens and in roughly the same time period every year, and that can be a great time to score a deal. For example, Apple released the new iPhone 11 in September 2019, Google offered a Pixel update in October 2019 and the last new Samsung Galaxy was dropped in February 2020. If you watch price levels on older models, you may see a slight drop once the brand-new phone becomes available. At the same time, you might be able to get some enhancements on a smaller budget.
The features you want, the deal that fits your budget.
With the rumored release of a new iPhone and a new Samsung happening later in 2020, now's the time to start researching the best features and the right phone for your needs and budget. Ready to upgrade? Learn whether you should sell your old phone or trade it in. And view Verizon iPhone deals and Samsung models today.
Este contenido se comparte solo con fines informativos. Toda la información que se incluye en esta página está sujeta a cambio sin aviso. Verizon no es responsable de ningún daño, ya sea directo o indirecto, que surja del uso o la fiabilidad del contenido antes mencionado, o que esté relacionado con este.