New year, new tech: what to expect in 2021
From the Apple iPhone 12 Pro Max to unexpected breakout tech such as the Samsung Galaxy Z Fold2, 2020 gave us devices with powerful new features and specs. And with the recent launch of the new Samsung Galaxy S21 5G series, you could say 2021 looks just as promising. Read on for the best devices of 2020, new phones you can shop right now and tech trends to look out for in 2021.
The best phones of 2020.
The Samsung Galaxy Z Fold2 is considered one of the best foldable phones on the market, surpassing the first-of-its-kind Galaxy Fold. This second-generation foldable phone is pocket-friendly with the option of unfolding to a 7.6"-seamless display to give you ultimate flexibility when you're between tasks. Other notable Samsung devices released in 2020 include the Samsung Galaxy S20 and Galaxy Note 20 Ultra. 
The new iPhone 12 series offers 4 devices to choose from — all with 5G capability and an innovative 5-nanometer chip. The flagship iPhone 12 and compact iPhone 12 mini feature a 12 MP front camera, dual rear cameras and a brushed-aluminum finish. On the premium side, the iPhone 12 Pro and the larger iPhone 12 Pro Max add a depth-sensing LiDAR scanner, an advanced telephoto rear camera and a shiny stainless-steel finish.
The flagship Google Pixel 5 is among the best Android phones from 2020. With fast 5G speeds, HD Duo screen sharing and impressive camera features such as HDR+, Night Sight and Portrait Mode, this smooth-performing device lets you do it all. You also might consider the even more affordable Google Pixel 4a 5G, which lacks the wireless charging found on the Pixel 5 but includes a convenient headphone jack.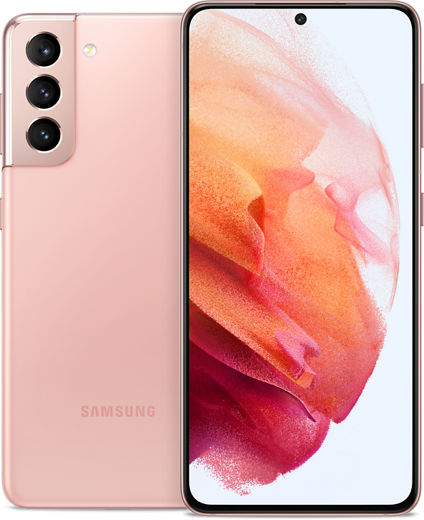 New 2021 phones to shop.
As the first big phone release of 2021, the Samsung Galaxy S21 series touts new features and specs worthy of praise. You can choose from the Galaxy S21 5G, the Galaxy S21+ 5G or the Galaxy S21 Ultra 5G. All 3 devices showcase a striking new design, incredible multi-camera systems, an all-day intelligent battery and the fastest Galaxy processor ever. 
Several other smartphone makers are also expected to launch new phones soon. Although not confirmed, a possible Pixel 6, iPhone 13, iPhone SE 3 and OnePlus 9 are still rumors to get excited about in 2021.
Tech trends from CES 2021.
If new phone rumors intrigue you, you'll want to see what LG revealed at the influential trade show CES 2021. Coming out this year, the LG Rollable will be the first of its kind. Similar to rollable TVs, this new invention expands the possibilities of smartphones with one smooth and seamless scroll of the screen. Without any folding or screen crease, as seen on foldable phones, the tablet-to-phone hybrid device paves the way for new smartphone technology.
Also taking center stage at CES 2021 was the power and future of 5G. Delivering the kick-off keynote address, Verizon CEO Hans Vestberg shared examples of real-world applications from sports, entertainment and education to demonstrate the positive and game-changing impact of 5G for mobile device users.
New tech for today and tomorrow.
Whether you're still sporting an older phone, you've recently upgraded or you're waiting for the next big device to drop (maybe the LG Rollable?), one thing is certain: technology is embedded in our everyday lives. And just as your needs and routines change, so does the tech you rely on. From new innovative phone design (such as foldable and rollable devices) to enhanced 5G connectivity, technology is adapting to support your needs — whether you can see it or not.
Stay up to date with the latest in tech and shop new devices with Verizon.
*5G Ultra Wideband available only in parts of select cities. 5G Nationwide available in 2700+ cities.
The above content is provided for information purposes only. All information included herein is subject to change without notice. Verizon is not responsible for any direct or indirect damages, arising from or related to use of or reliance on the above content.