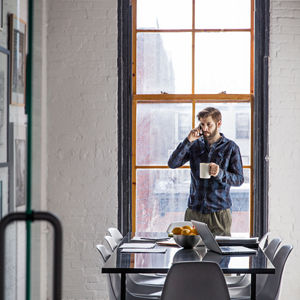 Add an additional layer of convenience with a USB-C plug or multi-port charging hub so you can charge several phones and tablets at once. Or, go wire-free with a wireless charging pad. If you rely mostly on a laptop, consider a laptop stand for a desk, a full-size keyboard and a wireless mouse to help lessen the strain on neck, eyes and fingers. 
Improve productivity.
Multiple programs and loads of open tabs on a single computer can strain productivity, but a second screen helps alleviate that. To connect an additional screen, you'll simply need the right adapter, such as an HDMI cord or a USB-C hub, plugged in to your computer.
When it comes to a second screen, consider a tablet as a non-traditional, portable monitor for a laptop or desktop. A powerful choice is the Apple 12.9-inch iPad® Pro (2020). It's fast, has advanced display technology and can run multiple apps at once. Pair it with an Apple Pencil and the Apple Smart Keyboard Folio or a new Magic keyboard with trackpad — available in May 2020 — and you might be able to leave your laptop at the office. In addition, the iPad's front-facing camera and studio-quality microphones are great for videoconferencing, a plus for the uptick in virtual calls that comes with working from home.
While cameras are built in nearly every laptop, tablet and phone, a separate webcam and wireless headphones, a headset or wireless earbuds can be helpful for better image and sound quality. The latter are also useful when it's time to block out distracting work-from-home noises.