Moving? Plan Ahead With Verizon: Coverage Maps, Tips & More
Moving your wireless service from one home to the next is easy, thanks to coverage maps, online account access and more. Here's what you need to know. 
Check cell service availability with coverage maps.
Verizon's network covers more than 2.56 million square miles and 98% of the US population, so there's a good chance your cell service will be unaffected by a move. Confirm coverage in your new location by using the Verizon interactive coverage map.

Decide whether you're keeping your number or getting a new one.
In most cases, it's possible to take your current number with you. If you want a new local number, make the switch on your My Verizon app or by managing your account online. Click here for step-by-step directions on changing your mobile number.
Update your Verizon account basics.
You'll also need to change Verizon billing and service addresses. Depending on your new state's taxes and fees, a move could lower your bill.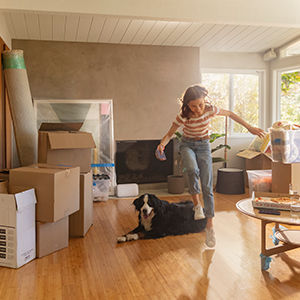 A move is also a great time to reevaluate your current phone plan. If you haven't upgraded in a while, you may find that Verizon's Unlimited plans can save your family from data overage charges.

Combine services when you move.
A great way to simplify your move is by combining mobile, internet, TV and home phone services through Verizon. Verizon Fios, the fastest internet available with speeds up to 940/880 Mbps, allows you to stream seamlessly with HD picture quality and crystal-clear digital voice. That, paired with a customized TV package and home phone plan, can help streamline your home connection setup. Note: Fios is only available in select areas.
Here are some options.
If you're new to Fios:
Signing up is as easy as 1-2-3.
Check availability in your new location. 
Choose the plan that meets your needs.
Place your order and schedule an installation date that works with your move-in. Night, weekend and same-day appointments may be available.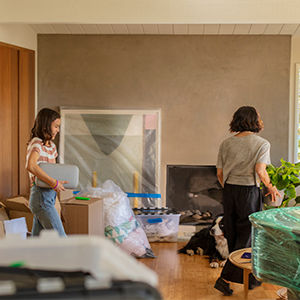 If you're an existing customer:
If you already have Fios or other bundled services through Verizon, chances are good that you can move them to your new home. Visit Verizon.com and follow the prompt to get started. You'll enter your new address, the date you'd like to turn off your current services and the date you'd like to turn it on at your new home. Verify that all information, including email and contact numbers, is correct.
You'll get a reminder several days before your expected move date. If you need to make updates or changes at any time, use the My Verizon or the My Fios app.
Remember: You can't have service at 2 locations, so you'll need at least 1 day between the service orders. If your new services require different equipment, you'll need to return your old equipment.
Stay connected during your move.
There are several options to make sure you don't miss calls, texts, contacts or entertainment. 
Forward home calls to your mobile device for moving day. 
Use the Fios TV app on your smartphone or tablet to watch shows and movies until service is installed at your new home.
If Verizon services are not available at your new home, visit Movearoo, a free online guide for people on the move. It offers help with everything from phone to internet, entertainment, utilities, moving companies and community services.
Connect while you travel, too.
Verizon's vast network area is not only helpful for movers, it benefits travelers, too. During a US vacation, you should be able to use your mobile devices — without incurring additional fees — whether you're in the Verizon coverage area or roaming domestically.
If you're traveling abroad, Verizon offers service in more than 220 countries around the world. Click here to learn more about TravelPass, the Monthly International Travel Plan and Pay As You Go rates.
Moving and wireless services made easy.
There's a lot to consider when you move, so remove a cell phone coverage comparison task from your to-do list. Rely on Verizon's coverage and support to take your service with you. 
This content is provided for information purposes only. All information included herein is subject to change without notice. Verizon is not responsible for any direct or indirect damages, arising from or related to use or reliance of the above content.