El Motorola edge+ nació para la velocidad 5G. Este smartphone de última generación te brinda carga para hasta 2 días completos,1 velocidad ultrarrápida y funciones de calidad profesional para hacer más de lo que tú amas. Olvídate del tiempo de retraso con una memoria enorme de más de 256 GB y un procesador serie 800 ultrarrápido. Disfruta de días de entretenimiento con una hermosa pantalla que envuelve los bordes y tiene sonido estéreo de calidad superior. Toma fotos de calidad profesional con detalles sorprendentes con el sensor de la cámara de 108 MP. Obtén lo mejor del sistema operativo Android sin el equipaje adicional. Y para quienes quieren control de manos libres, es compatible con multitareas, incluso el asistente de Google y Alexa. Experimenta todo lo que el Motorola edge+ tiene para ofrecer en Verizon. Ahora con la cobertura de 5G Nationwide y el rendimiento incomparable de 5G Ultra Wideband.2

Este dispositivo solo admite 5G UW de banda alta (mmWave), 5G Nationwide y 4G LTE.
Reseñas
308 reseñas
de las reseñas recomiendan este producto.
To me a very reliable phone.
Sí, recomendaría este producto.
This is I believe the fifth Motorola phone I have owned, the third one in the last nine years. This phone is a great phone. I use it daily in my work, I'm a long haul truck driver and rely heavily on my phone to contact customers and to keep in contact with the home office. I have dropped this phone several times and there has been no damage. I have had this phone just over two years and have had no issues. The screen took a little getting used to.
Motorola Customer Care - 8 days ago
Thanks for the awesome review and for being our valued customer, Big Dan. We're so grateful for the trust you've placed in us. If you need any assistance, please do not hesitate to reach out and we'll be happy to assist you. Have a good day and stay safe! -Mitch

Best Phone I have ever owned
Sí, recomendaría este producto.
I purchased this phone a little over two years ago so I have a lot of experience with it. First, every phone will have pros and cons. This phone at first took some time to get use to the waterfall screen, once acclimated it is great for streaming, videos, photos etc. It has been a beast of a phone for sure. I have dropped my phone face down on the screen and not one crack when my old iPhone fell like that it shattered. I love the storage, I am a mom and love to take pictures, this phone has been amazing at the photo quality and storage of photos. Battery life is great depending on how much or often you use it. It charges quickly. The sound quality couldn't be any better it comes through crisp and clean. When my husband's phone had an issue they quickly fixed the issue and gave him a new phone. Customer service is amazing. In the beginning I wasn't sure if I would even like a phone this big, now I will only own a Motorola phone. I'm due for an upgrade and have not had to replace my phone not do I want to. If we decide to it will be for a new Motorola phone. As for the bad there is not much I can think of other than it drops calls at times, ( which could be the service and not the phone) sometimes it the screen goes black and I have to reset it. This has been an amazing flagship phone.
Motorola Customer Care - 28 days ago
Wow! This is such awesome feedback, CC51316. Thank you for choosing us and we're glad that you're satisfied with the phone's features. If you need any assistance, please do not hesitate to reach out and we'll be happy to assist you. -Mitch

Dispositivos similares
Viendo ahora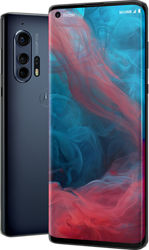 Motorola edge+
Desde
$24.16/mes
por 36 meses, 0% APR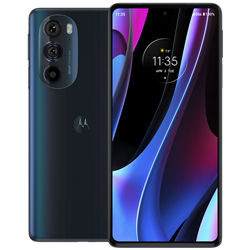 Motorola edge+ 5G UW
Desde
$23.61/mes
por 36 meses, 0% APR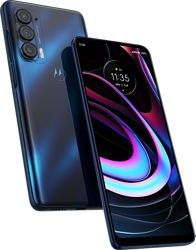 Motorola edge 5G UW
Desde
$15.27/mes
por 36 meses, 0% APR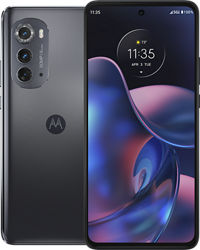 Motorola edge - 2022
Desde
$18.33/mes
por 36 meses, 0% APR
1. De acuerdo a la duración promedio de la batería en condiciones de uso normal. Rendimiento promedio esperado con uso típico. La duración real de la batería depende de factores como la red, las funciones seleccionadas, la frecuencia de las llamadas, el uso de datos y otros patrones de uso de aplicaciones. Los resultados pueden variar.
2. 5G Ultra Wideband disponible en ciertas áreas. 5G Nationwide disponible en más de 2,700 ciudades.
3. El teclado Bluetooth y el ratón se venden por separado.
4. Se requiere descargar la aplicación para Alexa.
5. Los dispositivos adicionales se venden por separado.
6 Waves, galardonada con un Technical GRAMMY Award®