The Best Online Learning Resources for Students
Millions of students have shifted their learning from the traditional classroom to some form of online school due to Coronavirus-related shutdowns. No matter the reason for making the shift to schooling from home, thankfully, there are a host of learning resources to help your kids fill their days productively. Whether they want to stay engaged, build skills or keep on track with their education, these apps, websites and tech tools are a great place to start.
Learn in real-time.
Recorded videos are convenient but learning in real-time — especially in subjects that may not be offered during the school year — can be a great way to nurture a kid's passion for a subject. Sites such as Outschool do that, with teachers and pre-set times on a wide-ranging set of topics — everything from fitness classes to puzzle tutorials for all ages. 
Tech to help: Supplement the built-in sound capability of smartphones and laptops with a Bluetooth speaker to help students individually adjust volume and range for clear audio and better understanding.
Stay on top of current events and newsworthy stories.
Teenagers aren't just looking to connect with friends — they're also looking to stay current with the world around them, and news from respected sources can help them stay informed. High schools across the country are able to offer students a 3-month, no-charge subscription to the New York Times, thanks to a unique partnership with Verizon. The subscription also includes access to The Learning Network newsletter. And teachers can use the free subscription as a supplemental learning tool for current events. 
Tech to help: A smartphone and the New York Times app make updates, videos and articles easy to access in real-time.  
Engage with experiments.
Being able to take a lesson when it's convenient, instead of planning around a schedule, can be a good option for families juggling work, home and other activities. YouTube Learning offers on-demand educational videos organized by both subject and age, from preschool through high school. One particularly useful series is the Experiment With Me videos; these are a great replacement for lab-based science courses students may have participated in. 
Tech to help: If your student doesn't have a dedicated space to learn at home, headphones may help them mute surrounding sounds and better focus on a lesson. 
Listen to a librarian.
In place of in-person learning resources, many of the country's libraries have begun offering a more extensive menu of online school options for students at home. Some feature librarians reading stories; others host conference calls with live programs on diverse topics such as meditation and writing workshops. Check your local library's website for information.
Tech to help: Consider a supplemental battery to keep your tech charged up and reduce the amount of time spent tied to an outlet. Phone add-ons such as the mophie juice pack can boost your battery life and keep your kids connected throughout the day.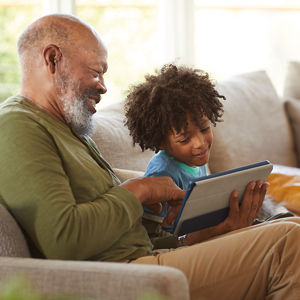 Add a language.
Language offerings at many schools may be more limited, but luckily several sites and their accompanying apps supply a worthwhile challenge for kids. Most, such as Babbel and Duolingo, challenge users with interactive lessons and speaking challenges. 
Tech to help: A stylus can make tasks such as answering multiple-choice questions simpler. All are designed to artfully mimic the grip of a typical brush or pen for more precise control.
Get extra help.
Let's face it: the last time many parents were inside a classroom was at a student conference — not to learn themselves. Sites such as Virtual Tutor fill an in-person gap with options ranging from STEM tutors to test prep. And for fun: live classes are also offered from famous people — actors, athletes and more. 
Tech to help: Add-on keyboards boost the flexibility and function of tablets, and can act as a stand to help prop up the screen too.
Enjoy the arts.
Many museums have shifted part of their collections to the web to serve as learning resources, but an inventive site offers a one-stop spot for a whole range of cultural and art institutions. Google Arts & Culture, available both online and as an app, offers everything from free coloring and activity books from the Metropolitan Museum of Art to virtual tours of over 2,000 museums from around the world. For example, your budding surfer can explore the history of the sport with a walk-through of the Australian National Surfing Museum while a history buff can take a deep dive into the photographs and archives of Ireland's 1916 Easter Rising.
Tech to help: Many of the online resources offered through Google Arts & Culture have some sort of interactivity, including zooming in, moving through museum rooms and more. A tablet such as an iPad is a great learn-at-home tool with fingertip control that helps get the most from these free offerings.
Learning resources you need, when you need them.
There are a range of online learning resources to help both students and parents. The right mix of tech helpers and options can nurture your students' passions and boost knowledge in required subjects. Use this list to help create the best mix for your kids in summer and beyond.
Este contenido se comparte solo con fines informativos. Toda la información que se incluye en esta página está sujeta a cambio sin aviso. Verizon no es responsable de ningún daño, ya sea directo o indirecto, que surja del uso o la fiabilidad del contenido antes mencionado, o que esté relacionado con este.