6 new developments & trends in telehealth
Emerging technologies, such as smartphones, can add convenience and connectivity to our lives. In the healthcare industry, telehealth helps patients and medical providers establish an open line of communication that's not disrupted by location or scheduling conflicts. 
Medical providers engage in telehealth when they use telecommunications technology and electronic information to diagnose, consult with, and treat patients. The telehealth industry continues to expand. In 2019, the telehealth industry had a $45.5 billion market share, which is expected to grow to $175.5 billion in 2026.
Expansions in telehealth can be seen in many facets of the healthcare industry. Healthcare-related legislation in the U.S., such as health insurance coverage laws, allows medical providers to turn to telehealth as a more convenient way to treat patients.
Advancements in telehealth technology and emerging trends also make it easier to use this method. These developments shape the industry and contribute to the ever-growing popularity of telehealth.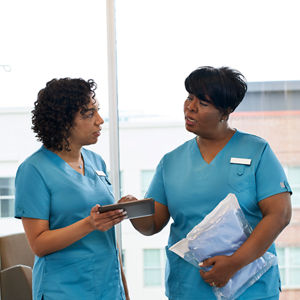 1. Increased acceptance.
When telehealth was first introduced, patients often viewed it as a lesser alternative to in-person care. With the acceptance of technology came a willingness to engage in telehealth due to its convenience. In 2017, 61.2% of hospitals around the country implemented remote patient monitoring capabilities.
With video conferencing options, expanded access to broadband internet and simple ways to gather biometric data, advancements in technology have led to even more robust telehealth visits. Among one insurance carrier's customers, there were 206 annual telehealth visits in 2005, which increased to 202,374 visits in 2017. Patients, medical providers, and healthcare facilities are beginning to understand the benefits, effectiveness, and convenience of telehealth, and they're requesting these sessions more frequently.
2. Improved access.
Fitness trackers, smartwatches, and other types of wearable tech have become staples for many people. These devices allow wearers to track their own health data, such as heart rate, sleep, and movement. When wearers have easy access to their own health data, it's that much easier for them to share it with their primary care physician. 
Since most people now have access to the internet and a device that easily connects, such as a smartphone, access to telehealth services has never been easier. The expansion of 5G services1 is also allowing more mobile devices to connect without interruption or speed issues disrupting calls. With video conferencing, patients and doctors can see each other's facial expressions and have more in-depth conversations about health issues and experiences. With improved access to telehealth services, this interaction is more appealing for both patients and medical providers.
3. Artificial intelligence.
Artificial intelligence (AI) is becoming an important part of the telehealth process. Medical providers lean on AI to help with diagnoses and for administrative support. With AI diagnostics and tests, doctors have time to see more patients because most AI equipment can be operated by triage nurses.
AI also assists in keeping and sorting accurate and thorough medical records. Doctors who are thousands of miles away can electronically send medical providers their records on past patients. By using AI for administrative tasks, medical providers review extensive information about a patient's background before making a diagnosis.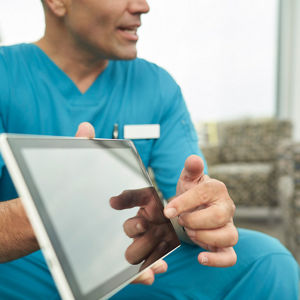 4. More clinical services.
There are many ways people use telehealth services without even realizing it. For example, calling an emergency line or the poison control hotline to request treatment or ask for advice is one way to take advantage of telehealth services.
In addition to emergency treatments, the telehealth field has expanded to include many other clinical services, such as:
Mental health counseling: Mental health counseling requires in-depth conversations so it easily makes the transition to telehealth. Many counselors, psychiatrists, and psychologists offer telehealth sessions for patients since they may feel more comfortable engaging in these conversations from home.

Doctor's visits: Instead of dealing with scheduling conflicts or logistics for an in-office visit, some patients prefer telehealth doctor's visits. A doctor may be able to diagnose a non-serious illness, such as a cold or the flu, through a quick analysis of a patient's record and review of current symptoms.

Consultations with specialists: Patients with medical conditions may need to see specialists who can analyze their symptoms. In some cases, these patients may be able to meet with specialists virtually through a telehealth session to receive a diagnosis and treatment plan instead of visiting the office.

Analysis of lab or x-ray results: Patients need to visit an office in-person to have blood drawn or x-rays completed. However, they may not need to make another appointment to see a specialist or doctor to discuss their results. Since most of these appointments are centered around communication, they can easily be completed through a virtual video conference or phone call.

Health condition monitoring: A patient who has already been diagnosed with a health condition may also be able to skip a trip to the doctor's office to monitor their condition. With wearable tech analyzing their sleeping patterns, heart rate and movement, these patients have more visibility in regards to their health metrics. They can discuss complications, symptoms, or health changes with their doctor by phone or video chat.
An extensive number of healthcare services don't require in-person visits, allowing the telehealth industry to expand and provide convenient medical care to many patients.
5. Mobile health.
Mobile health, also commonly referred to as mHealth, has also become commonplace in the healthcare industry. Mobile health refers to the use of smartphones, tablets, laptops, and other electronic storage and communication technology by medical providers. These devices assist healthcare workers in storing, organizing, and analyzing patient data.
Since both adults and children use wearable tech to analyze health data, they're also considered mHealth devices. Fitness trackers and smartwatches with health apps can provide data and to doctors and help them monitor patient symptoms remotely.
Additional health-related smartphone apps help patients take control of their health. A medical ID app alerts emergency medical technicians of a user's medical conditions or allergies if they're unconscious. A water consumption tracking app holds a user accountable for staying hydrated throughout the day to remain in good health.
Students with disabilities may use assistive technologies or smartphone apps to thrive and remain independent in everyday life. These mHealth accessories help patients maintain their health and give doctors extensive data they can use to develop effective treatment plans.
6. Expanded insurance coverage.
Since telehealth services have gained popularity and proven their efficiency, insurance providers are more open to covering this type of health care. For example, Medicare offers coverage for virtual check-ins with patients, e-visits, and mental health disorder treatments. 
States implement their own laws for insurance coverage and telehealth sessions. In some cases, patients may be required to pay out-of-pocket, then be reimbursed for all or a portion of the telehealth session. All states except Rhode Island require insurance companies to provide some coverage for telehealth.
As a convenient and simple way to diagnose, analyze, and treat patients, telehealth has become an important part of the healthcare industry. With these recent developments, this telehealth technology continues to expand and become an effective way for medical providers to treat patients.
1. 5G Ultra Wideband available only in parts of select cities. 5G available in 1800+ cities.
Este contenido se comparte solo con fines informativos. Toda la información que se incluye en esta página está sujeta a cambio sin aviso. Verizon no es responsable de ningún daño, ya sea directo o indirecto, que surja del uso o la fiabilidad del contenido antes mencionado, o que esté relacionado con este.