Debido a la inactividad, tu sesión finalizará en aproximadamente 2 minutos. Prolonga tu sesión haciendo clic en "Aceptar" a continuación.
Tu sesión ha terminado debido a inactividad. Vuelve a ingresar para continuar.
Verizon se complace en anunciar una actualización de software para tu dispositivo. This software update has been tested to help optimize device performance, resolve known issues, apply the latest security patches and, when available, deliver new features.

Antes de descargar:

Connect your device to Wi-Fi, or make sure it has a strong Verizon Wireless network connection.

Asegúrate de que la batería esté completamente cargada antes de iniciar la actualización del software.
Instrucciones para actualización del sistema
To help you with the mandatory software update for your device, this page contains the following information:
Software Update Instructions - User initiated over the air (OTA)

Software Update Instructions - Server initiated OTA

Updating while roaming

Insufficient device memory alert

Battery life expectations after a major software update
User initiated OTA

To start the download:
Start on the Home screen by tapping the Menu Key

Toca Configuración
Oprime About Phone
Oprime Software updates
Oprime Check for Update
Oprime Download Now
When download is complete, a screen will appear advising you that the new version of software is ready to be installed.

Oprime Install Now (Instalar ahora).

The device will power down and restart. A screen will appear stating that the installation has been completed. Toca OK.

Server initiated OTA

Once a new software version is available for your device, it'll begin downloading in the background.

When the download is complete, you'll be notified that it is ready to be installed.

Tap Install Now and the device will power down and restart. A screen will appear stating that the installation has been completed. Toca OK.

To check your software version from the home screen:
Oprime Menu
Toca Configuración
Oprime About Phone
Updating while roaming

You won't receive a software update notice if you're roaming. You'll need to be connected to Wi-Fi to update your device while roaming.

To enable Wi-Fi on your device, go to Settings under Wireless & Networks and tap Wi-Fi ON to enable (if not already enabled).

Tap Wi-Fi to view and select a Wi-Fi network.

Once you're connected, an update notification will appear on your device. If the software update fails to install, you'll get an error screen, though this only means the software didn't install properly. Remove and re-insert the battery, and power your device back on. The device will restart with the original software and will prompt you once again to install the software update.

Insufficient Device Memory

Due to changes in the Android OS, you'll need sufficient reserved memory for a software upgrade. If you don't have enough user memory, a Low Memory pop-up screen will be shown until you free up enough memory. Eliminating unused apps, and clearing videos or photos can help free up device memory. If you dismiss the notification and have not cleared space after 24 hours, a pre-update message will pop up again until you free up the memory necessary to perform the software update.

Battery life expectations after a major software update:
The application memory may have to be optimized.

This can take time and cause the device to temporarily use more battery while the optimization is in progress.

Downloaded apps may not be optimized, as app developers don't immediately update their apps to support new versions of the OS.

This may result in higher than normal battery drain, and in some cases device sluggishness, until apps are updated or removed.

It can take 2 to 3 days for the device's battery life to normalize.
Software Upgrade Assistant Tool

Si no tienes una conexión potente a Wi-Fi o de la red de Verizon Wireless, no podrás realizar la descarga de la actualización de software por aire. En lugar de ello, puedes conectar tu dispositivo a una computadora con acceso a Internet. Connect your device to your computer using your USB cable, then download the Software Upgrade Assistant tool to your computer, which will check for software updates and initiate the software update process.
Actualización del sistema 14
Los detalles:

Fecha de lanzamiento: 09.13.2019
Android Security Patch Level: August 1, 2019
Software Version: VS99630c

Qué está cambiando:

This software update for your LG V30 includes the Pie Operating System upgrade and latest Android security patches.

Android Pie

Home touch buttons with gesture:
Just swipe up to switch to Overview or App drawer.

Swipe right to move to the most recently used app.
Use the Volume keys for media:
Changes what the Volume keys adjust by default from ringtone volume to media volume.
Show lockdown option:
In the lockdown mode, biometrics cannot be used, all lock screen notifications are hidden, and Smart Lock turns off.

To enter this mode, Press and hold the Power key and select Lockdown.
Screenshot thumbnail:
When a screenshot is taken, its preview is displayed in the bottom right side of the screen as a thumbnail.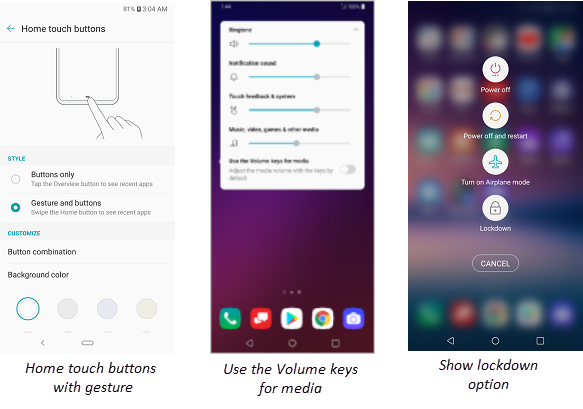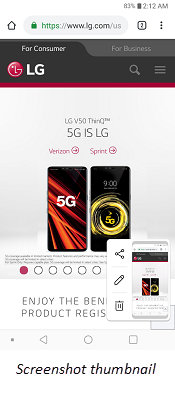 Cámara

Part Slo-mo:
Record a video with up to five scenes in slow motion.

You can also edit the parts played in slow motion and change the speed.
YouTube Live:
Go live with YouTube Live directly from LG Camera.
Flash Jump-Cut:
Helps you create a GIF by blinking a flashlight during a 3-second interval, giving you time to strike a pose.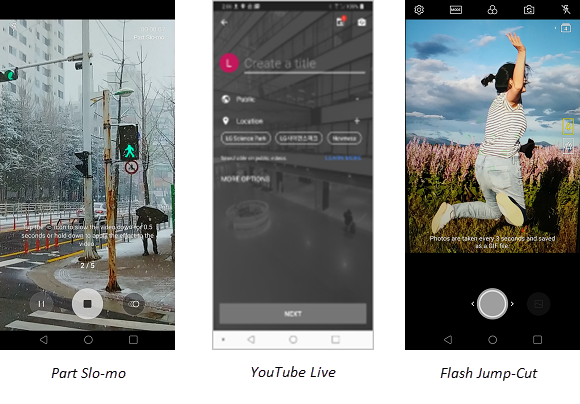 Galería

Screenshot with URL:
Screenshots contain a URL so you can revisit the website from where the screenshot was taken (supported with Chrome).
Tab view:
To navigate through Gallery view types, swipe or tap on a tab.
Album bar:
Lets you jump or move photos to other Gallery albums quickly.
Burst shot viewer:
Thumbnails are provided for users to easily navigate through images and pick the best one.
Dynamic collage:
Along with square-shaped grids, colorful frames and animations are available for creating a photo collage.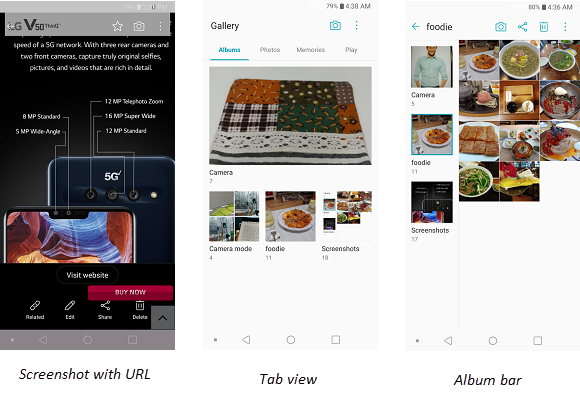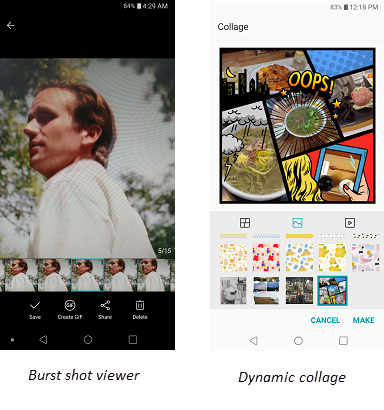 Pantalla de inicio

Home screen lock:
Prevents apps and widgets from unintentionally being rearranged or removed.
Home screen indicators:
Indicators for Home screen pages are specified.
4x6 Home screen grid:
A grid with more rows and fewer columns of apps is added to the selection.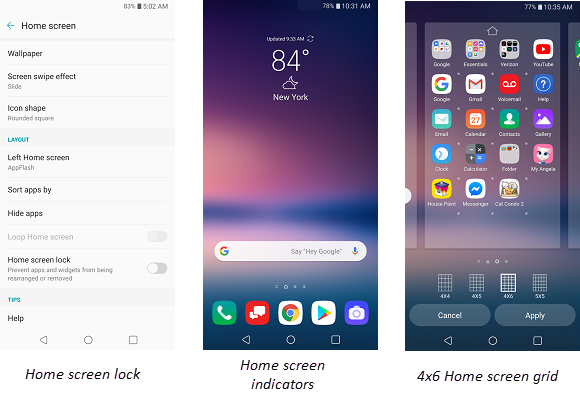 Game & Music

Game launcher:
Brings games and game-related shortcuts together in one place.
Game tools:
More controls for gaming such as disabling alerts, muting sound and searching for game-related videos are added.
Flash Light:
Flashes light to the beat of music.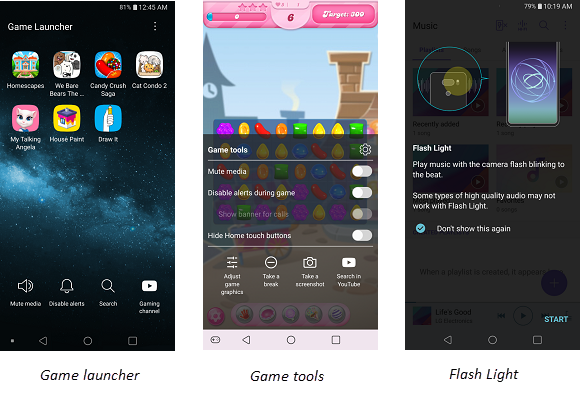 Fundamental enhancements

Pin to screen:
Take a screenshot with Capture+ and pin it to the screen to use the information in other apps or screens.
"Custom" repeat option in Calendar:
Lets you set a more specific repeat cycle for an event.
Weather for alarms:
Shows the current weather information in animation when an alarm rings.
Life indices in Weather:
Weather information expands to show life indices such as humidity, wind, UV, rainfall, outdoor activity, etc. and sunrise/sunset times.
Dual App:
Lets you use two of the same apps with different accounts.

This feature works with Facebook, Facebook Messenger, WhatsApp, WeChat, Viber, Line, Skype, Telegram, KakaoTalk, QQ Mobile, BlackBerry Messenger, Hike Messenger, ICQ, Zalo and Snapchat.
Brief notifications:
Shows notifications in a bubble with lighting in the edge of the screen.

The whole screen does not have to wake up to show notifications.
Secure power-off:
When the phone is locked, unlocking is required to power off.

This helps to prevent someone from powering off the phone when it is lost.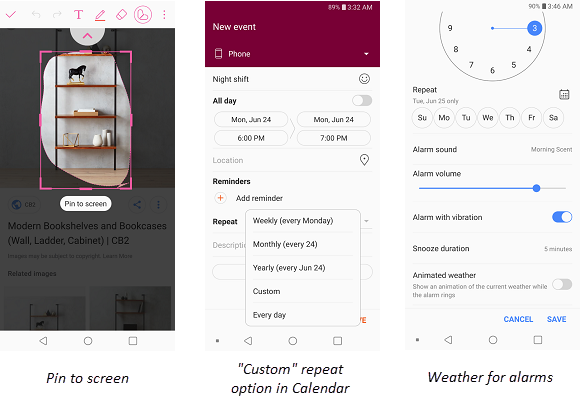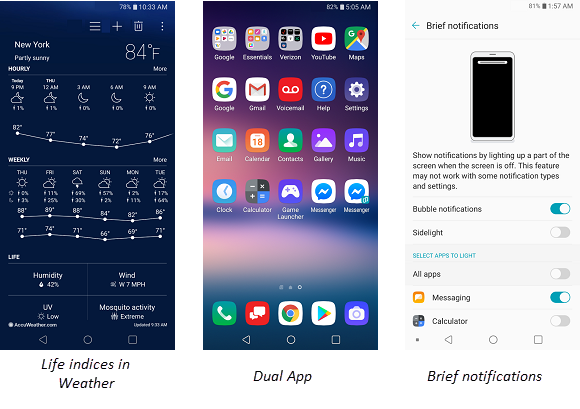 Settings & Setup Wizard

Notification settings:
Apps can be sorted in the notification settings so that you can easily find them.
Background color options for Home touch buttons:
Various colors are provided for the background of the Home touch buttons.
Screen Lock Options:
Instead of recommending adding fingerprints only, the Setup Wizard lays out all screen lock options.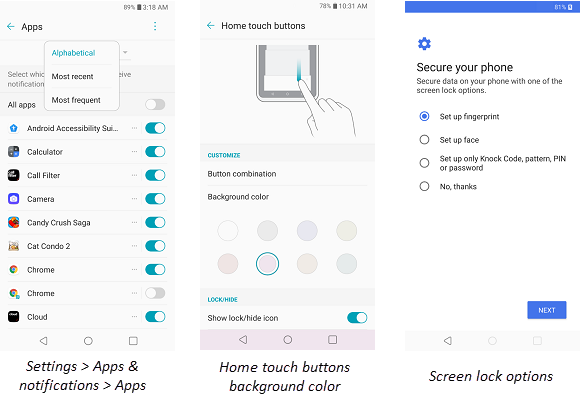 Actualización del sistema 13
Los detalles:

Fecha de lanzamiento: 07.05.2019
Android Security Patch Level: June 1, 2019
Software Version: VS99620l

Qué está cambiando:

The current software update provides your device with:
The most up to date Android security patches

System enhancements

Updates to LG apps
Próximos pasos y enlaces adicionales
Espera un poco para que las aplicaciones de tu dispositivo continúen descargándose después de la actualización del software.
If for any reason this software update doesn't fully download, our Software Upgrade Assistant tool can provide immediate self-serve troubleshooting guidance.
LG is a trademark of LG Electronics, Inc. LG, LG Life's Good, and the LG logo are registered trademarks of LG Corp.
Android es una marca comercial de Google, Inc.

Conéctate con nosotros en Messenger

Visita la comunidad
Sistema telefónico automatizado 24/7: llama al *611 desde tu móvil